Days: 10 days
Time: February
Per capita: 11000 yuan
With whom: husband and wife
Play: free travel, photography, humanities, self driving, money saving, hiking
preface
But when the beauty comes back,
I don't know where it is,
Oh, yes,
It's unique in Australia.
On Valentine's Day 2015, we embarked on a journey to Australia. Australia tour is a plan we have been planning for a long time. We expect that when we leave the border line, we have no other choice but to see that magical land soon. After 10 days' journey, now that we are back from Australia, we can no longer leave there from the heart, thinking that there may be our future.
Last year's trip to Tibet made us lost for a long time. Before we woke up from the dream of Tibet, we fell to another dream. The pain of coming back is unbearable for me and others. I just want to say that if Tibet is my paradise, then Australia is my world.
I don't have much to say. Let's see it first

trip
Coordinates: Melbourne Keynes Douglas corner of suffering Keynes Sydney Melbourne Geelong abollo   Bay -- twelve disciples -- Melbourne
Features: car rental and self driving+   Air   b&b+   Supermarket Purchasing+   cook
Transportation: from Beijing to Melbourne
Melbourne flying Cairns
Keynes flies to Sydney   Quixtar
Sydney to Melbourne   Quixtar
Self driving in Cairns corner
Round trip to Dayang road in Melbourne   Self driving
Sydney   train/   go ballistic
visa
In fact, I don't want to say more about visa. There are many strategies on the Internet. That is to say, we did not provide proof of deposit, that is, we provided them with salary and credit card flow. I wrote a letter to the visa officer. It's better to list other countries you've been to. What's more, I have made a catalog of what materials I have. After the submission, there was no power dispatching, and it was signed out in one working day, which was very magical.
first day
DAY   one  / February 14th
02:30am Capital International airport-08:30am   Kuala Lumpur International Airport-
00:30AM   Melbourne International Airport
AirAsia's new terminal has good facilities. There are not many shopping malls in legend, but there are still many places to rest. It's on the second floor. Some fast food is not so good.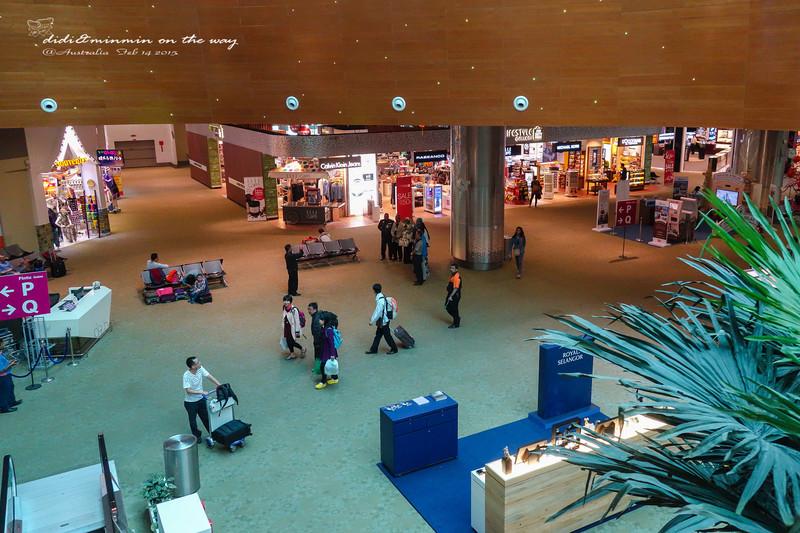 


the second day
DAY   two  / February 15th
It's 1:30 when I go out of the customs. It's probably because of the early morning. I didn't check anything, so I went out smoothly. Because it's a 6:00 flight to Cairns, I can only endure for three hours at the airport. We're still struggling. Both of us are recovering from colds. Sleeping in a wheelchair at Melbourne International Airport, a lot of sleeping chairs are occupied. There are so many people sleeping in the airport.
06:00AM
09:30AM   Cairns International Airport
10:00AM   Contact East, the rental company that you have previously reserved   Coast, after reporting the name and other information, it is agreed to close at Cairns Airport   The bus is waiting for the pick-up bus. Cairns Airport is not big, walk out of the arrival hall, about 200 meters is shuttle   bus。 It's about ten minutes before East   I'm very enthusiastic. If I speak English fluently, I don't mind communicating with you on the way. I want to know everything.
Airport to East   Coast car rental company is about 10 minutes' drive away. Two Australian uncles go through the formalities. The one who receives us can definitely be called old fresh meat. His appearance is not inferior to that of Tom. As a newcomer, we haven't adapted to the whole English communication environment. Coupled with the problem of Australian accent, our communication is not very smooth, but Uncle fresh meat is very nice. He even wrote to us to explain all aspects we need to know.
Because we bought all risks insurance on the Internet before, we don't need to buy it repeatedly when we pick up the car, but according to the regulations of the car rental company, we need to pre authorize a $1000 as the accident insurance deposit, because in the event of an accident in Australia, we need to pay a maximum compensation of a $5500 to the car rental company, so it is very necessary to buy all risks insurance.
If you need to pay attention to something when you rent a car, it is necessary to carry the pre printed pre order, original driver's license, notarized copy, credit card and other documents. Australia recognizes the notarized copy of China's driver's license, as long as you go to the notary office to do notarization before going abroad.
Everything is ready. When it comes to car pick-up, it is said that the car rental companies in Australia are reliable. The old and new cars are not mentioned first. The cars are cleaned before they are rented out. They are very clean. Unlike domestic car rental companies, they are dirty and evil. Let's talk about the condition of the car. We rented a medium-sized Nissan, 90% new, very satisfied. Japanese cars are very popular in Australia. They are very powerful and fuel-efficient. I really appreciate this kind of pragmatism with environmental awareness! Like it first!

Self driving car rental
We've just given our driver's license 180 to rent a car. To be on the safe side. The other thing to pay attention to is that you'd better take a visa card without UnionPay logo. I haven't met it. I think it must be a visa card mentioned in other travel notes.
Many self driving car rental strategies can be seen here http://www.aoxintong.com/thread-10-1-1.html
Driving experience: Xiaoyang road speed 100klm, 80klm turning, that's exciting( Feeling of right hand drive
The itinerary is Cairns town Palm Bay Douglas harbor 4 miles beach. Originally, I wanted to go to the Great Barrier Reef, but because I couldn't get off the water, and because I couldn't get out of the sea during the rainy season, I decided to choose Douglas harbor, dancui rainforest and suffering corner. Kuranda is also a tropical rainforest. There are cable cars and trains, but I feel that they are all tour groups, which is meaningless. I still want to go to places where few people come and explore the rain forest thoroughly. Feel the primitive life. Travel notes are few. But I'm looking forward to the feeling of being primitive and uninhabited.

Australia is basically Woolworth. One starves and the other cuts. This is Cairns supermarket, Coles supermarket parking lot. This kind of car card is very popular in Australia. It's my name. Australia supermarket is milk, juice, crazy buy. There are also many phone service providers in Australia, such as Optus, Telstra, Vodafone, 3G and so on. Relatively speaking, Optus offers more packages and discounts. Vodafone is a little more expensive. Telstra is expensive, but it's the best one with the widest coverage. What we bought is the Optus card. Is it 10 Australia or 5 Australia? Forget ha ha. The package is 2 Australia 500 megabytes of traffic a day. There are free calls in Australia. Buy 10 days 20 Australia. It's still worth it. Basically, it's enough to surf the Internet.

Now that he's here, Keynes has to go around Keynes. I went to the DFS duty-free shop to have a look. It's suitable for Australia to buy anything. This is the famous swimming pool by the sea. Just like the seaside. I'd better go to Douglas and have a rest.

Palm Bay is full of villas and resorts. On the way, we went the wrong part. It's all villas. It's really relaxing. The sea is just not good-looking. In fact, it's very clean. It just rolls up the sand.







A lot of people are fishing on the trestle. The weather is good, but soon it rains and cools our hearts

If you feel good on the way to Port Douglas, come down and have a look. It's called Xiaoyang road. There are few cars on the road. It's beautiful.

Accommodation and impression: Douglas   port   by   the   sea
Our arrival date coincides with Sunday, which is a public rest day in Australia. To our surprise, even hotels and restaurants are not allowed! Go! Ben! When we arrived at the hotel, the hall was empty and occasionally there were passengers passing by. After telephone communication with the staff, we learned that they were not working on Sundays. Our check   In and check-in items are posted on the hotel message board, all self-help! Fantastic! Zhenzhener learned the rights of employees in capitalist countries, Nb!
This hotel can park and has a parking garage. In Australia, we should pay attention to the parking problem. Some parking is expensive.
The island of the hotel, LP wanted to go to the supermarket shopping, but did not go to the seaside first to the supermarket, the results closed at 6 o'clock on Sunday.
Then I walked to the small town. It's really quiet. It's off-season now. It's hard to see people in the street.



Good luck. It's always sunny after a small shower, but the first day is too tired. I spent two days in the plane and airport, ha ha. But in this weather, our cold is basically 80% better. It's not hot or cold. It's a little damp.



Add a map. That's the way to drive to Mosman and the dancui rainforest and misery corner in the north on the third day. I'm too tired. I have a kitchen in the hotel. I don't take many pictures. I made noodles and hamburgers myself. I went to bed early and went to Mosman and Cape Tribulation the next day.


On the third day, the play dancui rainforest, just you and me.
DAY   three  / February 16th
Mosman Canyon cow   Bay-Daintree   Jungle-Cape   Tribulation-PK's   Restaurant (first spring festival greeting, drunk driving)
Accommodation and impression: Cape   Tribulation tree house
Absolute life experience, pure virgin forest, original ecology. Talk to the kind Gordon couple, aunt   G warmly waiting for us to find the wild animals in the garden.
The purpose of Keynes in the plan should be the Great Barrier Reef. Due to the rainy season in February and the reason of body cycle, we adjusted our itinerary to a more personalized Tropical Rainforest Adventure. At first, I was against it. When I was really in the mysterious rainforest, all my unwillingness would come to nothing. There would not be many such experiences in my life.
After leaving Douglas, it takes 30 minutes to reach today's first stop, Mosman canyon. After entering the Park store and buying tickets, you can take the shuttle bus to enter the scenic spot. There are few tourists in the scenic area. Compared with the sunny outside, it looks cool and humid inside. Tropical rainforest mosquitoes are indispensable, so the six gods must spray them early. Shuttling through the Millennium rainforest, there is no mobile phone signal, no crowd disturbance, ear is the fierce sound of birds, cicadas, streams, like a symphony of cascading, flowing. Among them, there is nothing to think about except the awe of the tree and the wonder of the unknown world. Mosman takes 1.5 hours on foot. It's easy and won't be tired.

This is a picture of the door. You have to pay the ticket and then a bus will take you in for a walk. The environment is very good and the road is very easy.




1.Inside the 5-hour hike is this small pool of water with fish in it. It's so tempting that I have to experience it. The water is cold. All the way to all kinds of strange trees, big roots, dazzling. Intoxicated with the air, wash the lungs thoroughly.


At the end of Mosman's journey, we pay a visit to Daintree   Jungle. To Daintree   Jungle had to cross the river by ferry in the middle of the road. After experiencing the experience of boat carrying vehicles and people in Tibet, the operation was even easier. After crossing the river smoothly, all the signals of mobile phone and network were lost, so we had to rely on the guidance of GPS to move forward, which was completely primitive.
At lunchtime, we stopped at cow in dantley   Bay, this little beach, which is the same as lost, has become a paradise for us to play. There are so many beautiful things in the world, such as clean sea water, golden sunshine, delicate sand beach, gentle sea breeze. Why do people bother themselves?

On the way to Cape Tribulation, below is the ferry to the Dantley river. There is only one way to the corner of suffering. After that, there's no signal. Let's enlarge the cost of crossing the river. We bought it back and forth. There are just a few cars passing by. Think about it, primitive, happy.




There are many mysterious small dirt roads on the way. If we want to go in for a long time, some of them are big manors. We ran into a dirt road. It's very adventurous.


After crossing the river, caw is not far ahead   bay   I heard it's beautiful here. Lunch is settled here. Hamburger, milk and juice prepared last night. I bought ketchup and salad dressing. Now there are still half cans in the refrigerator. Save it.



The sea may not be so beautiful, but primitive, more important is only you and me.


This is the place where cassorwar, the national treasure of Australia, is very easy to appear. There is that big brand. I didn't know when I got it. I was lucky to meet it when I came back. I just knew that it meant this. I can wait and see it here. We also went in the lane in front of the car. There was a sign that it was private. We could call someone and take them in to play.
Last guide map http://media.travstar.com.au/downloads/rgMap_ 47.pdf   It's clear to download here that all the walking and eating maps are here. You can choose by yourself. We went to the discoveries along the road. Later, we didn't go in because of the short time. We felt better walking.
This should be   Marrdja   Boardwalk   1.2km   A little walk. There's a simple RV. I don't know where people are playing.







In the evening, we arrived at our destination near suffering corner. Because there was no network signal, it was very difficult to find the location of our home. Fortunately, we met a kind truck driver, who drove to show us the way and let us find Cape, the mysterious tree house home that welcomed us   Tribulation。

After leading the way, I got here. I turned in at the intersection I missed. When I arrived at the gate, I was shocked. Is this a family hotel? It's not a black shop, is it
。 The director and his wife went to Thailand on holiday. His friends, Mr. and Mrs. Hordon, are here to receive us. Enter Cape   We are scared by everything here. We are psychologically prepared to live in a tree house, but it is unexpected that we live in a tropical rainforest directly instead of a Tree House Hotel. There is no modern sculpture. Everything is original. The owner of the forest has built a garden without any pruning. It is comforting that the enthusiastic Mr. and Mrs. Horton received us, introduced us to the food, housing and transportation of misery corner, and introduced PK's, a very reliable bar   Restaurant, pizza and beer are affordable.


It takes five minutes to walk through that door. In the back of the stream and the forest, we can play by ourselves. If we have the courage, we have contacted them recently. There have been big snakes and lizards around the house. Fortunately, we didn't see it when we turned that day. Our tree house is a small wooden house without windows and open on all sides. All kinds of small animals from the rainforest will visit us at any time; There are no household appliances, but there are kitchens, toilets and bathrooms. They are just the most primitive appearance you can imagine, even more primitive than you think. As for the toilet, it's an ecological toilet, and the poop goes straight down the big pipe to the ground; The bathroom is even more exciting and open. Facing the rainforest, you can wash it without any house or door. At the beginning, I feel uncomfortable. If I really enjoy it, I will feel comfortable and used to it. In fact, this is a primeval forest, bimousman canyon. The path behind the hut is decorated by the owner with his own thinking. It's a bit different, but it has his own characteristics.

This is where the master lives. They gave us maps. Put down your luggage and go to dinner. It's a pity that I lost my mobile phone. I'll talk about it later. I didn't take many pictures when I went out. Dinner at PK's   As one of the few restaurants in the town, restaurant is very popular. Waitor was very enthusiastic. He helped us choose our meals and finally paid new year's greetings in Chinese, which surprised us and surprised us. Although I was driving, I still had a drink of draft beer. For the first time in my life, I had a little accident. There was no street light on the way back to the tree house. I accidentally drove by. When I turned around, the rear wheel fell into the big pit and couldn't get out. Finally, my husband vigorously lifted the car out with his bare hands. There was no danger and there was no scratch on the car. When they came back, the old couple took us to find the snake and told us to be careful. There are so many snakes. Fortunately, they are not poisonous. They are more stable.



Tonight must be a sleepy night, two people alone in the rainforest, facing the unknown animals that may hit at night, not far behind the house is a stream, the sound is very loud, the stream washes the plants, accompanied by the endless natural symphony, dare not turn off the light, uneasy sleep.
On the fourth day, it was hard to leave the rainforest and return to Sydney.
DAY   four  / February 17th
Cape   Tribulation   Beach - farmer's orchard - farmer's tea garden - national treasure bird - Douglas White Chapel - Cairns car return - Cairns Airport lost way, queue jumping - a bird's-eye view of Sydney - Sydney International Airport - milson   Point
Wake up in the morning and feel fine. Hesitation is very tired, sleep is still very fragrant, that is, will feel a mosquito occasionally bite, but not so much. not so bad. Here is the place to take a bath. Facing the nature, let it go completely

Sleep in restlessness, wake up in restlessness. We will never forget the rain forest night when we are half asleep and half awake. We are awakened by the sound of the trickling stream in the morning. We have no fear and just want to enjoy what nature brings us quietly. I don't yell at insects any more. I even think they are very interesting. Maybe this is the courage brought by rainforest. Waking up in the morning is beautiful. We went to the garden again, waded in the stream, took a deep breath in the rainforest, and tried to bring back all the oxygen here.



Show me the place to take a bath.
   It's all natural. original




This is the front yard



Today, we have to catch the noon flight to Sydney. Time is tight. On our way back to Cairns, we simply repaired the farmer's orchard and farmer's tea garden that we missed yesterday, and then we hurried on our way. Farmer's orchard and farmer's tea garden have set up small booths for self-help purchase. The prices are clearly marked. How much is given depends on self-consciousness. The fruits and tea are fresh, and the prices are very affordable.
The luckiest thing happened on the way back. The ostrich like monster in the distance caught our eyes. It was the legendary cassowary, the national treasure bird of Australia and the image spokesman of dancui rainforest. It is said that there are only a few hundred of them. It's really lucky to meet them on the road.
Take another look at the beach in misery corner.


Hey, lucky, I'll show you one slowly. It's very leisurely   National treasure of Australia   It's hard to see.


Although Chinese tea is the best, they are not very good at making tea. The tea is very broken. But the environment, we have to want to taste it. The price is very cheap. Bags of tea in general, to buy large bags of bulk tea. It's not bad. Who's going to take some more for me.

It's a nice day back. Good mood all the way. LP said driving has never been so good

Near Douglas Town, it suddenly occurred to me that the white church by the sea, which is recommended by the strategy, hasn't been there yet. I turned a small corner and went directly to it. It's a small church by the sea, a good place for weddings. From the small window, I can see the quiet sea. After another round, Douglas felt that if only he could live for a day and ride a bike to blow the wind.

When I returned to Cairns and returned the car, I didn't feel the time was tight. I was in East orderly   After finishing the car return procedure in coast, the company's shuttle bus pulled us directly to the airport. When we arrived at the airport, we found that the situation was not right. Cairns Airport was not big. There were only two or three counters for Jetstar. The crowd had already lined up to the door. If we queued up, we would be late. We urgently found the nearby flight counter. Although there were fewer people, we still had to wait for more than half an hour. Fortunately, we met the staff of Jetstar. After explaining the situation, we took us directly to the counter to go through the formalities. At her prompt, we also found the staff to join a team during the security inspection, so that we could catch up smoothly. This experience also needs to be summed up in the future. We still need to make enough advance to catch the plane.
Mrs. Horton of the tree house specially reminded us that we can see the Sydney Bridge and the opera house on the plane. When we flew over Sydney, we had a clear view of Sydney, including the bridge, the opera house, the Royal Park and so on. We arrived at Sydney Airport at 8 p.m. and according to the plan, we took the city rail to our home in Sydney. Say Sydney subway really expensive, from the airport to Sydney's home, a total of five stations, a person calls more than 100 yuan! Later found that a station to sit more than 20! Or the subway of the great imperial capital is the most affordable!
After getting off the subway, I followed Google maps to find my home in Sydney. This is a residential area near the port of Sydney. The block is very quiet, with two-story villas on one side and high-end apartment buildings on the other side. The overall feeling is that it is a relatively rich area. I like this living environment very much.
The owner of the Sydney family is a pair of young South American "aopiao" who are struggling. They have a big family. It's worth it to have such a house in Sydney. The fly in the ointment is that I found a little black cat NAIA in my home in Sydney by accident. At first I knew there was a cat, but I refused. Later I found that the cat was very lazy and friendly. Apart from watching us, there was nothing unusual. For the first time, I had such a harmonious coexistence with the cat. Keep up your energy and prepare to go away tomorrow!
悉尼的交通我再补充吧。还有悉尼的住宿。If you're arriving from the airport, the best way to get here is by Train (~$16pp), taking the train to the City and getting off at Central station, then look for platform 16 (take the train towards North Shore) and then get off at Milsons Point. From there it's an easy walk to our building (around 5 mins)这是房东留的信息,很仔细,我们很方便的找到了家。
On the fifth day, new year's Eve, Sydney went wild!
DAY   five  / February 18th   New year's Eve
University of Sydney - Chinatown - Hyde Park - Victoria Cathedral - Queen's shopping mall - Seafood Market - Valentine's port - Sydney Opera House - Royal Botanical Garden - Coles supermarket - get lost and go home
On the first overseas new year's Eve, we thought that Australia, with its large number of Chinese, would have a full sense of new year's Eve, but in fact, we didn't feel the slightest sense of new year's Eve in Sydney, except for the sheep's head posters hanging all over the streets to celebrate the new year.
Sydney Morning, the day is not very early, the breeze blowing into the room, fresh air, warm sunshine, wake up a little tired of us. Outside the curtain are the blue sky and white clouds we have seen in the painting. Looking sideways, the Sydney bridge is close at hand. Everything is what we like, like the scene we have been used to. It is the life we imagine.
Today's itinerary is violent Sydney. My husband's itinerary is very full. After a simple breakfast, we started a day's excursion.

What are you looking at? Very sticky to me. Here are my travel notes. We both wrote our own feelings. Don't look at me. Invincible sea view room. Help yourself to breakfast. Milk, cereal or something



At the first stop, we took the subway to the University of Sydney,. This is the first university in Australia. It's a century old English castle building. I'm deeply shocked when I go deep into it. There are Harry Potter plot to see oh. Redfern   Walk for 10 minutes under the subway station. If you want to have a class, how can you be successful at the University of Sydney? Want to experience the most beautiful campus culture, want to communicate with local students, or with their own into the rage feeling is not the same, the result was unexpectedly smooth.




You didn't fool us, ha ha. Look at this day, poor children in Beijing



From the University of Sydney, you can walk not far down the road to Chinatown. There are many Chinese shops and restaurants on both sides of the road, but they are far from what we think of as Chinatown. It has been fully integrated into localization. Open the street brushing mode, the imperial capital has been there. Are you still afraid to walk? Tiantongyuan can turn the Melbourne CBD around by buying a dish. Ha ha.


According to the plan to continue to walk, Hyde Park, St. Mary's Cathedral, Queen's shopping mall one trip down, already exhausted, sunny, but still love Sydney.





After Hyde Park, navigate to the apple store and have a look. Apple 6 is the real value, and the Australian dollar is devaluing, which is more than 500 cheaper than Hong Kong. I didn't buy it in the end. As a result, the new Huawei mate 7 page bought by Dayang road was buried in the sea.
Apple store out navigation QVB queen shopping mall, the results of the road to see a more wonderful shopping mall, unexpected harvest. The   Strand   That's what arcade should be like. I looked at it at Google.









Going to the northwest, we arrive at Darling Harbor. On New Year's Eve today, we are going to have a big meal. Through the lover harbor, we have a seafood market. There are so many people. 99% of them are Chinese. They buy now and make now. The food is very fresh. But to tell you the truth, it's not necessarily a place to come. Let's go to Southeast Asia to eat seafood. Again, it's tiring to walk too much. It's tiring to walk back and forth from the map to the fish market. So it's time-saving to go to the fish market. It's best to go directly by boat.



It's like 35. Our new year's Eve afternoon tea, no time to eat at noon. ha-ha
After a seafood dinner, return to lover's harbor and take a boat to Sydney Opera House. It's a three-stop journey from Valentine's harbor to Sydney Opera House. You must sit outside the cabin to take photos.







Sydney Opera House is definitely the place with the most people in Sydney, and the feeling of bustling is no less than Wangfujing. The most distinctive one is the opera house bar, which is also known as the largest bar in Australia. At this time, we can see the difference between foreigners and foreigners. Chinese people are basically taking photos, while foreigners are basically drinking and chatting.


Next to the opera house is the Royal Botanical Garden, the pride of Sydney people. When we arrived here at dusk, people who had been busy all day rushed here, or for a walk, or for a fitness, or for a tryst with their lovers... We were obsessed with the beautiful scenery. When we left the park, it was past the closing time. Maybe the entrance to the opera house was still open. After a long time, we went over the wall. It was also a special experience.







On the way to the subway, I went to Coles supermarket to buy some food. Because I was too tired, although there was only one stop, I chose to take the subway. It was really expensive! More than 30 yuan per person.
Walking on the way home, I suddenly wanted to take a road that I didn't walk. It didn't matter. I walked back and forth a lot of wronged roads and circled for nearly an hour. Finally, I found my home with the help of a kind-hearted person. It's really lost!
After walking all day, my feet are useless. It's ten o'clock in the evening when I come back to my home in Sydney. I'm tired. Wechat on New Year's Eve keeps ringing. I don't have the strength to pay New Year's greetings, let alone grab red envelopes. It's a special new year's Eve to faint after a simple new year's greeting with my parents.
On the sixth day, I left Sydney and started my journey on Dayang road.
DAY   six  / February 19th
Sydney Bridge - rock area - Sydney Airport flying to Melbourne - Melbourne Airport car rental - Geelong rock  &  Dog mansion BBQ, "fake honeymoon"
Today I saw Sydney on a cloudy day. Yesterday was just one day, which was enough to make us fall in love with this city. During the last half day in Sydney, we were going to take a walk around the Sydney Bridge next to our home. The neighborhood around the apartment building is rich, the property price is relatively high, the environment is surprisingly good, the air is fresh, the population density is small, and the neighborhood is also very clean. Ten minutes' walk leads to the northern end of the Sydney bridge. The sky begins to rain. There is a special pedestrian walk on the bridge, where office workers and fitness runners shuttle. The southern end of the bridge is Sydney's oldest urban area, the rock area.
The street below us.


Standing on the Sydney bridge.





All around the Cantor theater. The tallest building in the picture below is our apartment.


As the birthplace of Sydney, the rock area has only three or four streets. Slate street, stairway and old bell tower make everything here retro. In less than 20 minutes, I walked around the rock area, picked up my mood, left Sydney, which I just fell in love with, and flew to Melbourne, the next stop.





Ocean Road, beautiful self driving
I arrived in Melbourne at more than 2 p.m., and like Keynes, the self driving vehicles in Melbourne are also reserved from domestic websites. The car rental company changed to alpha, and the car rental program is the same as East   The cost is basically the same. When you arrive at the airport, you can call the car rental company and arrange the pick-up place to wait for the shuttle bus to arrive at the car rental company to pick up the car. Melbourne Airport is much bigger than Cairns Airport. After communicating with the car rental company by telephone, we agreed to stay in shuttle   Bus is waiting, but we haven't found shuttle after searching for a long time   Bus stop, during the period also made a ridiculous oolong. Just when we were in a hurry, we saw a row of vans marked with the logo of various car rental companies parked in the parking lot directly opposite the international departure. If you look carefully, the purple alpha bus is among them. It turns out that unlike Keynes, the shuttle bus at Melbourne Airport stops for a long time, so you can find it if you look carefully. After checking the information, we got on the bus and went to the rental company. When you arrive, you start to go through the car collection procedures. You can't miss the pre order, original driver's license, notarized copy, credit card and other documents. Of course, you can also use the credit card to pre authorize 100 Australian dollars as a deposit. Everything is ready, ready to pick up the car, this time the car is a small black Nissan, smaller than the Keynes car, but the price is really affordable. Plug in GPS, Google maps, double insurance, let's go!


Previously, the strategy said that Melbourne to Geelong should avoid the toll road, so follow the navigation and drive along the highway. It takes about an hour to get to Geelong town. The speed limit around Melbourne is also 100klm. Although there are many cars, there is no pressure on the speed.
It's said that Geelong is the largest city around Melbourne, and its scale is the size of a small county town in our eyes. However, the environment, specifications and facilities are quite high. After walking around the town, we soon fell in love with this quiet place. The blue sea, the quiet, white style trestle and wharf complement each other, The wood figures and seagulls can be seen everywhere on the seashore, which make the scenery more vivid. The children are playing football and playing on the grass, and the adults after work are jogging along the beach. Everything is so comfortable and natural. Soon we decided that this is the second Australian city we like. Compared with Sydney, it is more suitable for home life. It's getting late. I can only say goodbye to you in a hurry. I'll go to the supermarket to replenish the food for today and tomorrow. It's full of goods

In particular, I would like to praise the parking system in Australia. Although each place is slightly different, the general regulations are similar. Take Geelong as an example. The roadside parking signs show that from 9:00 a.m. to 5:30 p.m. from Monday to Friday, the time is free or short-term, and the rest of the time is free; Saturday and Sunday are free as long as there is no special indication. Shopping in the underground parking lot of a large supermarket is free for one hour. Even if you don't shop, it's all free after 5:30 p.m., but pay attention to the closing time of the underground parking lot.

Today's home in Geelong is Michael's, a 15 minute drive from the center of town. Its name is rock  &  Dog。 According to the guidance of the navigation, we drove into a large area of woodland similar to the National Forest Park. There are less than 100 families in it. Each family is a manor style building, unique and magnificent, with its own characteristics. Fortunately, we got a house like this. Michael and his three big dogs warmly received us. After a brief visit to the facilities at home, m called us to have an outdoor BBQ, which is also our experience of the Australian people's life and their friendliness.



On the seventh day, I bid farewell to my beloved lodging and go to Dayang road
DAY   seven  / February 20th
The first day of Dayang Road: M's manor tour in the morning-   Anglesea-   Lone town   Hamburger - roadside koala - Apollo   Bay surfing, hi chat, homemade Australian steak
Our room in the morning is very clean. I can't bear to mess it up.



The local tyrant like life, wake up to smell the local tyrant breath. The host Micheal's family went to the airport to see his sister off. We were the only two left in the big house, and of course, the three alert little guys. Compared with the life in China, whether it is the pace of life or the living space, the difference is too big. We are very satisfied to have the opportunity to live such a day.
Today's schedule is relatively easy. We didn't leave in a hurry. We wanted to wait for m to come back and say goodbye. After M came back, he took us around the yard and told us about his paintings, his experience, his ex-wife's garden, his grandfather's past, his son's gap year and Peng in the yard! Peng! Peng! Crazy's flowers and plants... When we left, we took us to see his family photo. We were infected by M's affinity and enthusiasm, and sincerely invited him to visit China.

During the exchange, we learned that Michael's grandfather was a member of the Australian reinforcements during World War II and died in Germany. This is the property left by Michael's grandfather. Michael took us to visit his two studios, the front and back yard, and introduced all kinds of plants in the yard, as well as his family. We had a good chat, and we didn't have any reservation. We felt that foreigners were not alert to foreigners, and we could feel the sincerity of communication.
Using villa to describe his mansion is really a bit aggrieved by this boundary, which is clearly a manor built in the National Park! The first time I stayed in such a tall house, half of the villas are places for us to move freely. Only when I live here can I understand "what is a day"!


I don't have to say that local tyrants are tyrants. They have everything.






At the beginning, he was very afraid of Xiaohei. At last, he didn't give up. He came to show us the way and was very friendly with us.
The backyard is like a national park.


Before lunch, we left M's home and formally embarked on the journey of Dayang road. Today's destination is Apollo   Bay, along the way through three small towns - Torquay, Anglesea and lone, each town has its own characteristics, small scale, good environment, facilities are very complete, in M's recommendation, we had lunch in lone, Australia's food is really enough, a hamburger, French fries is enough to feed us.

Torkan   Take a seat at the seaside of Torquay.


The beach on this side of Anglesea is very beautiful.


This lighthouse is free.



The real ocean road begins.








We had lunch in lone with M's recommendation. The food in Australia is really enough. A hamburger and French fries are enough to feed us.




On the way to aporobay

In the evening, we arrived at Apollo   Bay's home, this yellow villa is our home tonight
Accommodation and impression: Apollo   The owner of a villa in bay town is a fisherman. He didn't communicate much. He just left us a letter of explanation. The advantage of living here is that he is completely separated from the owner, free to go in and out without restriction. His home is very clean, and all kinds of facilities are complete. It's very comfortable to live in.








Put down our luggage and we drove around town again, at Apollo   Bay, we met a local grandmother and saw us saying "happy" to us   Chinese   new   In the process of chatting, we were attracted by her surfboard. Her husband had a lot of fun, so he borrowed the surfboard to prepare for the first experience of surfing. During this period, I had a wonderful conversation with my grandmother, and my oral English improved by leaps and bounds!

How can I come to Australia? I have to go to the sea to play. I borrowed my grandmother's baby surfboard. The water is really cool. I find the feeling of surfing. I should be able to sit up with a big board. I can't do without clothes. My chest is worn out.

For dinner, we bought two pieces of Australian steak and three pieces of lamb chops in the supermarket. They are also more than three pieces. They are very cheap. Take it home for processing, and the warm and romantic Australian steak dinner is finished.
On the eighth day, the essence of Great Ocean Road, the twelve disciples, the respectable ladder of Gibson.
DAY   eight  / February 21st
Day2 of Dayang Road: koala lighthouse, lookout Gipson, lose cell phone, twelve disciples, London Bridge, petersborough   K family - twelve disciples watch the sunset - run home to meet the lightning - the only restaurant to eat spaghetti
In my husband's words, this is the most important day, the most worthy day to look forward to, because this day, we want to see the most worthy scenery on the ocean road - the twelve disciples!
Go to Cape first today   Otway, this local tour group will not take it, because they have to buy tickets. In addition to the most beautiful lighthouse on Dayang Road, another important reason is that the auxiliary road to Otway is very convenient   Let's see the koala. It's often grey.
Before departure, please send another accommodation and surrounding documents



Go to Cape   Otway.

A place to buy tickets.



From the lighthouse, there are many small intersections on the road. It should be fun to enter. Many saloon cars drive very slowly along the road. LP drives very well. I can't stand it. I'll tell you if we'll take a road that nobody's going. There is a road called Laoyang road which is close to the sea. As a result, it is full of dirt roads. I can't see the sea, but I can feel the breath of the countryside. The path below is closer to the sea.

As soon as the car was driven, all kinds of birds took off. There are many kinds of birds in front of the car. Next to it is rural Australia.

The essence of Great Ocean Road is coming.
After Otway comes out, go back to Dayang road   And he went to the twelve. There are several scenic spots of the twelve disciples, but they are all free. As long as you have time and physical strength, you can visit them.
Follow Dayang road to Clifton beach in turn today   Beach), Gibson step   Steps, the twelve   Twelve   Apostles, Loch   Ard   George, brokenhead  )、 Arch stone   Arch), London Bridge   Bridge), the cave rock   Grotto, Bay   of   Martyrs), bay   of   Islands), boatbay.
The most memorable is Gibson steps   Steps) and the twelve   Twelve   Apostles)。 Why Gibson   There are two reasons: first, it is the only lookout near the twelve who can get down to the beach; Secondly, it is precisely because we can get close contact with the shocking scenery that leads us to play crazy and jump our mobile phones into the sea!!! New mobile phone!!!






gibson steps


At this moment, hungry mobile phone dropped, zoom in can see my mobile phone on the beach!!!!!!!



I'm not in the mood. Ah, off, it's no use of the Internet, and I can't make a phone call. Fortunately, I can watch and walk with my iPad and GPS.

Twelve disciples, we went back and forth twice. The scenery of day and evening was totally different, but it was also shocking. I can't think of any other words to describe it except Wonderland. There are too many people at noon, which can be compared with the scenic spots in China. We are just in time for the weekend. After looking at it, I just go to settle my luggage and come back to see the sunset. There's no phone, so it's better to connect with the owner.

It's more convenient for the twelve disciples to live in Campbell harbor after they've passed. Due to the late booking, all the good houses are gone. We have to go to Peter borough's KT house in front of us. The room was cheap and turned out to be surprisingly good.


Accommodation and impression: every host of accommodation will send us a confirmation letter in the next few days, giving us the address and details of check-in. Of course, we also received a letter from Katie next to the twelve disciples. It's a pity that we can't reply to her if we lose our mobile phone. I was impressed that Katie was a lonely girl who engaged in animation design. It was a different feeling when I first met her. She was a sunny, hospitable and shy girl. She warmly introduced us to the facilities of the house and the surrounding tour routes. Due to the time, she didn't communicate with K too much. Like ordinary Australians, K's house is also a two-story villa with a large open garden and clean and comfortable decoration. The spacious balcony is the best choice for blowing air, drinking tea and watching the sunrise. I really admire the life here. In such a big site, only K lives alone. The world is so beautiful! no Duke! Ping! It's over!
Below is a view of the room the next morning. It's so comfortable!!!






Attention when driving on Dayang Road
Let's talk about the driving experience of Dayang road. Dayang road is very similar to Xiaoyang road in Cairns. It has many curves and single lane, but the lane is spacious enough. Compared with Xiaoyang Road, there are a little more vehicles on Dayang Road, especially RV. Sometimes the speed is very slow, and the road is not as flat as Xiaoyang road. I belong to the type of driving fiercely. I drive in strict accordance with the maximum speed limit. I often hear the sound of the rear wheels rubbing against the ground when I turn on the no car section of Dayang road. I drift many times. It's really exciting and enjoyable. After all, Dayang road is the most beautiful self driving road in Australia. Vehicles will block your direction from time to time. The occasional lack of quality driving behavior of Chinese drivers will also make you feel smooth and sour for a short time. It is strongly recommended that if the number of people traveling is not large and the driving is not particularly skilled, it is not easy to rent a RV on the ocean road with so many turns and climbs. From the perspective of environmental protection, rent is not a wise choice.
This is a foreigner couple. I don't know where they hit
A few words about driving in Australia:
First, come on. Most of the refuelling in Australia is self-service. You can choose a good oil gun (for different grades of gasoline, generally choose the cheapest unleaded), add it yourself, and then go to the counter to pay according to the number of positions. You can also swipe the card, which is very convenient.
Let's talk about Australian traffic regulations. In Australia, self driving road regulations are strict, so we must pay attention to:
1)   Remember to keep to the left. I