The 2021 spring break scene is certainly different.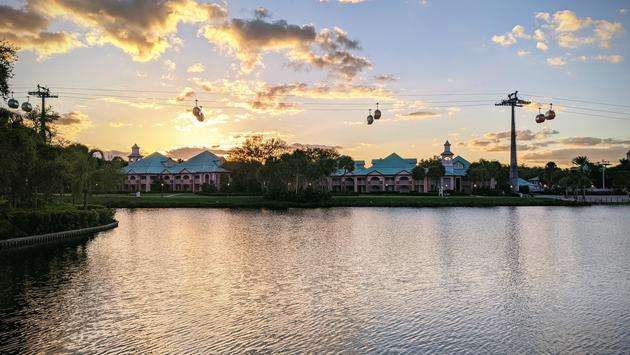 Still in the midst of the pandemic – albeit there is more light at the end of the tunnel – more and more people are wanting to get out and start traveling again .
However, this year there are added travel restrictions and an extra emphasis on health and safety protocols to keep everything as clean as possible.
There are plenty of destinations that have received the Safe Travel Stamp and ones that provide easy social distancing . There are also major theme parks that have adhered to the CDC's guidelines showing that they can operate safely during this time.
We made the decision that a spring break road trip to Florida to visit Walt Disney World first and then drive to the beach would work best for our family. Packing for a trip during the pandemic meant making sure to have multiple masks, extra hand sanitizer and what felt like a truckload of baby wipes for our one-year-old daughter.
Stopping first at Walt Disney World Resort in Orlando, Florida we were greeted with relief. Protocols are in place that certainly makes the parks look different – masks are being required for anyone over the age of two, not all attractions are operating, social distancing markers are everywhere and there is even plexiglass in many of the queue lines – but at no time did our family feel unsafe.
Oh, and that Disney magic was definitely still there. Cast members still provide a fun experience for all.
It was our first time traveling to Disney and the beach with our one-year-old, and it was a toss-up for how she'd do.
Staying at Disney's Caribbean Beach Resort provided easy access via the Skyliner to Disney's Hollywood Studios and EPCOT.
The resort itself was beautiful to walk around and near Disney's newest resort, Disney's Riviera Resort , which is worth checking out in and of itself.
Disney's Caribbean Beach Resort is outfitted with its own themed pool area, kid's splash pad, gift shop and multiple restaurants. It was easy to mobile order our food, pick it up from one of the windows and enjoy it at one of the socially distant tables. At Centertown Market, the Cuban sandwich is delicious along with the fish tacos – we ate here multiple nights because of its convenience and good food.
Walt Disney World is currently only operating at 35% capacity which really made staying socially distant – especially at the resorts – easy. Caribbean Beach Resort was even encouraging contactless check-in and check-out services for guests. This meant no waiting around in a lobby. Step-by-step directions were available through the My Disney Experience app. The room number, map of the property and electronic key were all contained in this app, and for those that have magic bands, you can just tap the band to open your hotel room. Upon leaving all we had to do was pack up our stuff and drive off.
The room was standard with a nice king-sized bed, table and chairs, mini-fridge and modern bathroom all in a semi-Caribbean theme. For those traveling with small children, it's great to know that these rooms are outfitted with a tub and cribs are available upon request. The crib was a mini crib, it came with a sheet of its own and was sanitized before being delivered.
The parks themselves are just as magical as ever, and riding the Skyliner really made things a breeze. Our daughter recognized Mickey and Minnie, was enthralled on every ride we went on and loved to take naps in her stroller while we walked around the parks.
It's easy to follow the new rules, and with all the new protocols, it really felt like a safe visit.
From Orlando, we traveled to Sarasota, Florida for a chance to relax by the beach.
Siesta Key and Lido Beach are consistently rated among some of the top beaches in Florida and as soon as you step out onto the sand you see why. The powdery white sand at Siesta Key came with plenty of room to spread out from your neighbors, offering the perfect setting to relax.
Social distancing is crucial in the world we live in right now, and doing so on a beach can be a challenge, but thankfully it was a breeze due to the large amount of space at Siesta Key.
If you're traveling with kids , there are plenty of activities in Sarasota like visiting the Mote Aquarium, Bayfront Park, Big Cat Habitat, the Ringling Museum and more.
With the city's Big Pass , guests can enjoy a multitude of attractions at a fraction of the cost.
It's important to note that some of these attractions do need advance reservations due to the COVID-19 pandemic.
Embassy Suites by Hilton Sarasota is not only centrally located, but it also provides a well-appointed oasis that is easy to relax in. Our room was outfitted with a kitchenette, living area, a beautifully modern bathroom and a separate bedroom area.
For those traveling with children who go to bed at a different time than you do, having a separate sleeping area from the living area is a huge advantage. Pack n plays are available upon request, but we traveled with our own. The hotel has a pool on the eighth floor to enjoy, is equipped with a fitness center, provides a continental breakfast in the mornings and is also home to a great dinner restaurant – Bridges.
There are a number of terrific restaurants and stores for shopping in downtown Sarasota all within walking distance from Embassy Suites. Some places offer outdoor seating as well, which is a welcome sight for anyone who wants to have their space but still eat at a local restaurant.
Overall, our first Spring Break as a family of three was a success. Our little one loved playing in the sand and getting to see Mickey and Minnie for the first time. We were able to stay socially distant and our hotels provided a clean and safe respite.
Florida will always remain a hot spot for spring break travel. This year presented new challenges and risks, but with a stronger focus on health and safety protocols from businesses across the state, we felt just fine exploring popular places in Disney and the beach.