The much-anticipated grand opening of the adults-only Hotel Xcaret Arte in Riviera Maya is set for July 1, 2021.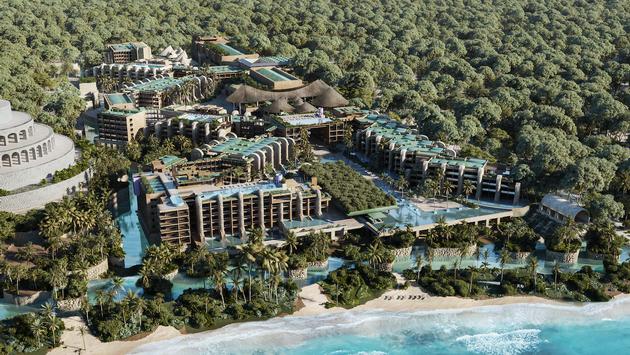 It joins Hotel Xcaret Mexico , which made its debut in 2017.
In all, Hotel Xcaret Arte will be equipped with 900 suites, 10 bars and lounges, a spa, several pools and events and convention facilities.
As is the case with Hotel Xcaret Mexico, guests of Hotel Xcaret Arte will be privy to unlimited access to Grupo Xcaret's seven eco-adventure parks, which include Xcaret, Xel-Ha, Xplor, Xplor Fuego, Xavage, Xoximilco and Xenses.
They can also take advantage of Xenotes and Xichen tours.
The design of the property will reflect the history of the Maya culture, which is evidenced in its five Casas, enabling guests "to explore and engage with the country's heritage and nature," Grupo Xcaret said.
Casa del Diseno will serve as a textile workshop offering weaving lessons; Casa de la Musica will feature dancing lessons; Casa de los Artistas will focus on painting; Casa de la Piramide will put the spotlight on pottery; and Casa de la Paz on workshops specializing in vegan cuisine.
Dining experiences will run the gamut, including pre-Colombian and regional Mexican cuisine. "Additional restaurant concepts include cultural fusions of Mexican traditions with Chinese, Japanese, Lebanese, Mediterranean and more," Grupo Xcaret said.
The resort is situated between Cancun and Tulum and will cater to guests 16 and older.