Families can pay a virtual visit to Santa in his hometown of Rovaniemi, Finland. After a busy night of delivering presents, children can check in on Mr. and Mrs. Claus with Finnair (Santa's official airline). Finnair is employing virtual reality to offer customers an immersive 360-degree experience.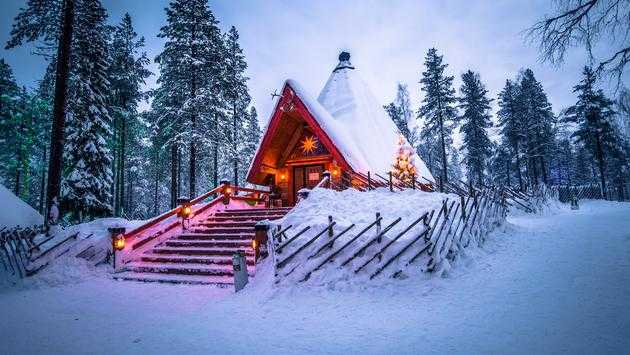 Guests can enjoy refreshments served by cabin crew, admire the starry skies and gaze upon the dramatic northern lights from their 'seat' in Nordic Business Class.
"As Santa's official airline, we're excited to harness modern technology to create a truly memorable holiday experience," said Mikko Turtiainen, Finnair vice president of global sales. "Our customers around the world will be able to enjoy the timeless wonder and holiday cheer of Finnish Lapland from the comfort of their own homes, while enjoying the thrill of sitting in Finnair Business Class. We hope it will inspire them to travel again once the time is right."
Families will also experience familiar flight soundscapes, festive decorations and perhaps even the glimpse of a familiar festive figure sitting in one of the other seats.
Once in Rovaniemi, visitors can cross into the Arctic Circle and enter Santa's cabin to meet the man himself.
Sanna Karkkainen, CEO of Visit Rovaniemi, said: "The time could not be better for a holiday VR experience on the wings of Santa's official airline. We've been developing our VR experience in Rovaniemi for over a year now and joining forces with Finnair is a fantastic way to reach a global audience with a seasonal message–and a heart full of hope."
The experience was created in partnership with Finnish VR studio Zoan with one of the most advanced real-time 3D graphics tools. Travelers can be viewed on mobile phones, laptops or with a VR headset that can access a web browser and open a video.
Flights last approximately 30 minutes and are 10 euros per person. Seats can be reserved from the Finnair Shop. All proceeds will go to supporting UNICEF's work to slow the spread of COVID-19 and minimize the pandemic's impact on children worldwide.
"Thanks to the magic of Virtual Reality, Finnair can 'fly' families to Rovaniemi in Lapland–despite the travel restrictions–to enjoy a winter wonderland and meet Santa," said Turtiainen. "I hope this brings a big smile to those participating."