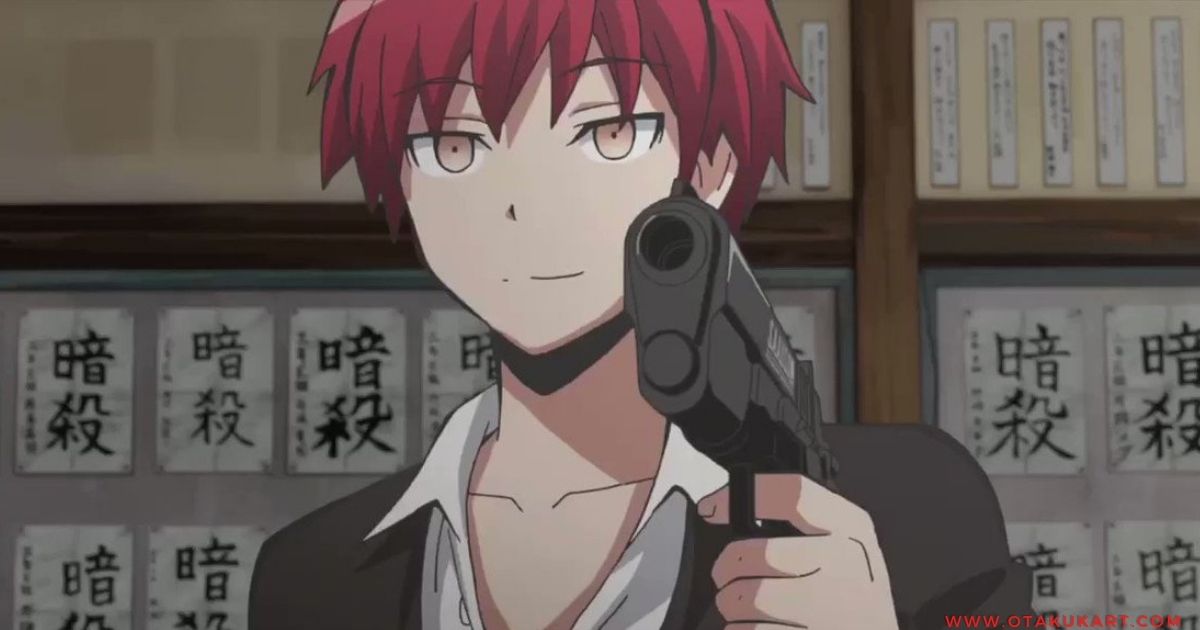 Share on FacebookShare on Twitter
  Who is karma akabane? What anime is Karma Akabane from? What is the synopsis of the anime? How many episodes does the anime have? Where can the anime be streamed? Karma Akabane is every otaku's dream. Otakus dig him for his red hair and golden eyes with a touch of Midas. Karma is the source of envy for his looks, intelligence, and wits. He literally won first place in the manga's character popularity poll. Throughout the anime, Karma is also dubbed as the most handsome student in the whole of Class 3-E. What exactly is it that Karma can't have? Well, the answer is a big fat nothing. Fans just love him for who he is and for what he has to offer.
  In this article, we shall cover all that there is to know about our favorite character Karma Akabane. A 100% unrivaled character, Karma is the biggest crush of all in the anime universe. We will give you the answers to all of the above questions and add some spice, also decode Karma's complicated personality. We are sure that we have your attention now. Happy reading, folks!
  Also Read: Will Netflix Renew Hunter x Hunter License? Every Detail About The Future Of The Show Discussed
  What Anime Is Karma Akabane From?
  Karma Akabane is an important character from the anime series Assassination Classroom. He is a student in Korosensei's Class 3-E of Kunugigaoka Junior High School who was suspended from school due to his aggressive conduct. Karma is well-known at Kunugigaoka Junior High School for his aggressive actions and chaotic demeanor. To sum it up, he is crafty, mischievous, and cruel. Karma is popular for playing dirty, deceiving, manipulating, humiliating, and constantly fighting others. Despite his vicious temperament, Karma, in actuality, has really good intentions and can be incredibly sympathetic. You can say that he is a tough guy with a soft heart. Shhhh!! Don't let him know, we said that, though.
  Karma
  Karma is said to be the strongest person in Class 3-E and was also the first one to ever deal a blow to Korosensei. He was placed in Class E because he saved a Class E senpai who was being tormented by kids from the main building. To be honest, people affect Karma much more than he lets on. This is apparent from the incident when the cruelty of his homeroom teacher before the suspension incident led him to hate all of the teachers and have zero regard and respect for any adult. Later on, though, after shifting to class 3-E and meeting Korosensei, Karma had a lot of character development. Thus through the series, Karma grew more rational and started acknowledging the strengths and faults of his opponents and teachers. Class 3-E really brought out the best in Karma.
  Also Read: Assassination Classroom Season 2 Ending Explained
  On Assassination Classroom: Streaming & Synopsis
  Assassination classroom is an anime adaption of Yuusei Matsui's popular comedic manga of the same name. The popular manga was published in Shueisha's Weekly Shonen Jump magazine from July 2012 to March 2016, with a total of twenty-one Tankobon volumes. The anime was on the air from 9 January 2015 till 30 June 2016 for two seasons and a total of 47 episodes and one OVA, with the first season having 22 episodes and the second and last season having the subsequent 25 episodes. Assassination Classroom has received an 8/10 rating on IMBD as of 2021 and is available for streaming on Netflix and Hulu, among many other platforms.
  Assassination Classroom Promo
  Synopsis: When a strange monster reduces the moon to an everlasting half, the pupils of Kunugigaoka Middle School's Class 3-E are faced with a monumental task. That is to eliminate the creature responsible for the calamity before Earth meets a similar end. The creature, called Koro-sensei or the indestructible teacher, however, has superhuman strength and abilities, which makes the chances of Class 3-E's plausible victory almost next to nil. Furthermore, the misfits of Kunugigaoka Middle School quickly discover that the bizarre, tentacled alien is not only invincible but also the finest mentor that they have ever had! Thus begins the bizarre journey of Class 3-E as they try to assassinate their alien teacher.