The past year has brought many changes to the way we travel as a society, with road trips closer to home all the rage and RV travel becoming an increasingly more popular method to get around, no matter the age group.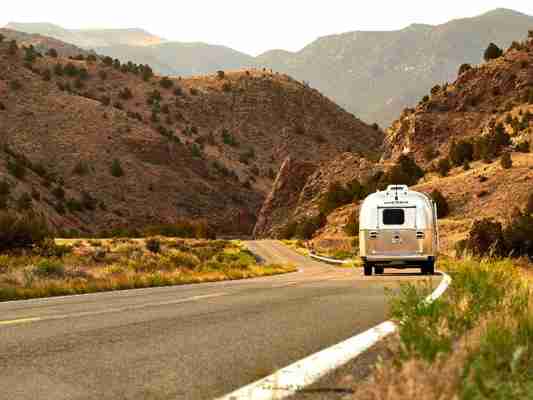 In fact, more than nine million US households now own an RV, and the RV Industry Association reports that RV sales were up 31.2% in fall 2020 over the same period a year ago.
Considering traveling by RV for the first time? Whether you're buying or renting, here are some things you need to know before you hit the road.
Test drive the lifestyle first
RV travel is a convenient way to pack up your home and go—but it isn't for everyone. Before you sell all your belongings and become a full-time van lifer—or even set out on a multi-week trip with the family—considering renting an RV for a weekend first and hitting up a state park close to your house (you know, just in case).
Companies like Outdoorsy and RVShare have inventory of campers and standard and compact RVs at locations across the country that allow you to test out various mobile rigs (and the concept itself) before signing up for a longer trip.
The most basic camping option is a towable pop-out trailer. These compact homes—well-suited for couples and solo travelers without a lot of baggage—expand beyond their size and can often be towed with a car instead of a truck until reaching a camping destination.
The next step up in options is towable but with hard sides that, unless there are extensions, stay in place, even while mobile. These trailers come in two different towing configurations that are dependent on the hook-up you have on your full-size truck: The fifth-wheel attachment is within the bed of the truck while the standard trailer is attached at the hitch.
The last option, a full-on motorhome, ditches the separate vehicle entirely and can also be considered a bus. These are self-contained units and come in an almost infinite array of options, with high-end models costing well over $1 million; they're perfect for luxury travelers, larger families living on the road together or those who want minimal setup each time they reach a new campsite.
Lengthen your stay
Looking to save on travel? (Let's be honest—who isn't?) Eliminating both the cost of flights and hotels, traveling by RV is a smart way to keep costs low and extend your time on the road. For example, the longer you stay in one place, the cheaper your stay will be at many RV parks and campgrounds thanks to heavily discounted weekly or monthly rates.
Before you commit to your length of stay, do a cost comparison of a few days versus a few weeks, and you might find that staying longer works out to roughly the same price; even if you can only stay three weeks, sometimes it's more economical to just book the month-long rate anyway. Another bonus: Staying put longer means you'll save money on gas and really get to know your surroundings.
Pack light
Whether you're looking to hit the road full time, or just plan to be gone a few weeks, you'll want to slim down your belongings for a couple reasons. First, unlike staying at a hotel, you won't be unpacking on the other side, meaning everything you carry with you, well, stays with you (and there's nothing like feeling claustrophobic in your own temporary home on wheels).
Second, you'll find you need a lot less than you think you do when traveling by RV, and the majority of campgrounds have laundry facilities where you can wash your clothing. You'll also save money in the long run by your RV not being overweight should you have to check in at weigh stations. Weigh-station rules are state-specific and often only apply to commercial vehicles, so while weighing your rig is not something you'll likely have to do often—if ever—there is a small chance depending on your rig and where you're traveling. In some states, any vehicle weighing more than 10,000 pounds in Gross Combined Weight Rating (or GCWR) is required to pull over and be weighed at all weigh stations. The AAA Digest of Motor Laws explains the rules for each state.
Park for free
Don't want to blow your whole travel budget on RV campgrounds? You don't have to. Many nationwide entities like Walmart, Cabela's, and Lowe's have company-wide policies in place that allow RVs a free place to park in their lots overnight. To be sure and cover all your bases, always call the store manager in advance to check that there aren't any local ordinances or individual store policies that would prohibit overnight parking.
Embrace boondocking
Once you're comfortable in an RV, you might just be ready to level-up and try boondocking. Boondocking, or camping in the wilderness sans hookup, allows you to be closer to nature and further from the crowds, and it doesn't cost a penny.
The downside? You won't have access to water, electricity or sewer, so you best plan in advance. Boondocking is particularly prominent on Bureau of Land Management land out West, and you can park for free in National Forest dispersed campsites and along many National Forest roads.
One thing to note is that you are responsible for carrying all of your own trash out, meaning you need to be equipped with sealable containers and trash receptacles. Some of the best boondocking spots are remote with little to no cell service, so be prepared; pack an emergency kit with all first aid, navigational and roadside tool needs, and double-check you have enough water and power to get you through the number of days you'll be off the grid.
Sign up for memberships
Many RV parks give discounts to Good Sam, AAA, or AARP cardholders, and if you're prioritizing one campground experience, like a KOA, it may be economical to invest in that organization's membership, too.
Others to consider: The America the Beautiful pass from the US National Park Service, which allows a family—the pass owner and three accompanying adults age 16 and older (kids 15 and below are free)—entrance to all parks for just $80 a year. Harvest Hosts allows you to RV camp at more than 2,000 wineries, breweries, and farms in the US and Canada. If you're 62 or older, you can take advantage of the Lifetime Senior Pass for $80.
Know before you go
While it can be tempting to learn on the go—and sure, that's a lot of the beauty of this style of travel—you'll want to do a test run with your RV or camper out of your own home or at a local campground before hitting the road for real so you can get to know where the electrical, water and sewage hookups are located and how to use each function.
One of the benefits of staying at an RV campground (versus primitive camping or boondocking) is that you'll be able to connect to your designated spot's electrical and water hookup, which enables your appliances to siphon from this source of power rather than using your battery or propane; it also allows you to keep reserves of water onboard.
If you're traveling by RV or mobile home, remember that you'll be carrying around all your water and waste with you: both grey water (shower and sink) and black (toilet). You'll want to dump both regularly at any designated spot: every RV campground will have one, and many truck stops, gas stations and nicer rest stops also have spots where you can flush your accumulated waste.
Rules of the road
Still nervous about setting out on your own? Don't be. RV travel will soon feel like second nature after you've been doing it for a spell. Here's a check list of road rules—and some camping know-how—to keep with you as you're learning the ropes.
Always chock your wheels as soon as you arrive at a campground and before you leave your vehicle to explore by foot. Once a trailer is unhooked from a vehicle, it can shift dangerously.
Balance and level out the camper to ensure a good night's sleep.
Always triple-check your hookups, and batten down any open windows or hatches before hitting the open road.
Stay out of the fast lane unless it's absolutely necessary to pass a much slower vehicle. Vehicles that are towing trailers are generally illegal to drive in the far left lane.
Looking for inspiration on where to go? Check out our list of the top bucket-list experiences in every US state or read about our favorite US road trips.
RVing for the first time? 8 tips for newbies I wish I'd known during my first trip
RVing for the first time? 8 tips for newbies I wish I'd known during my first trip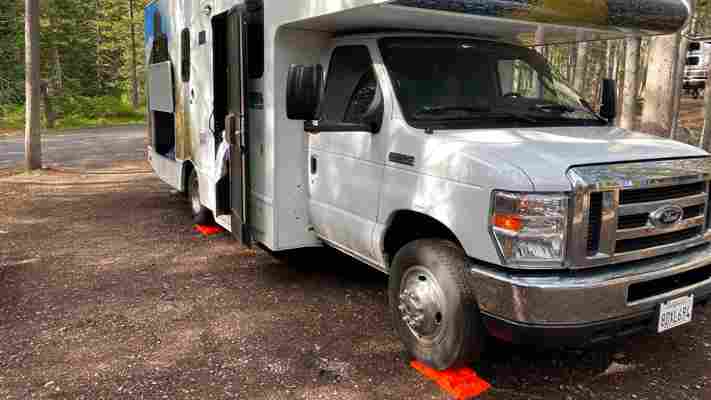 Show Caption Hide Caption COVID: RV rentals on the rise for summer vacations For summer vacation, RV rentals have increased by 1,600% since April according to the peer-to-peer rental company RVshare. USA TODAY
A month ago, if I had heard the words "black water" in conversation, I'd have assumed the speaker was discussing an obscure movie, perhaps an Australian film (there are two by that name) or a Jean-Claude Van Damme flick I haven't seen.
But after two weeks of driving across the country, the words "black water" immediately conjure images of RVs, wastewater tanks and, well, poo spilling out onto my feet (which we'll get to later).
I know now that the first definition of black water is solid and liquid waste that must be dumped from an RV's holding tanks, because I am now an RVer.
To be more precise, I'm someone who has laughed, cried, sung very loudly, been carsick quietly (when I was sitting in the back, which is a much rockier ride), seen pink sunrises, viewed orange mountains, passed by hundreds of bison, made countless PB&Js and listened to hours of podcasts while riding along in a 25-foot RV across the country a few weeks ago with my boyfriend.
I'm one of the many people who decided to take a summer road trip – complete with a vehicle that has a toilet and fridge – after the global pandemic made other travel plans unsafe or impossible.
How much coronavirus risk is there in common travel activities? We asked an expert
After spending nearly 4,000 miles on the road in an RV, I know a lot more than I did a month ago. A lot that I, frankly, wish I'd known before leaving California to head to New Jersey.
But I'll give you, dear reader, the benefit of my two weeks of experience inside my temporary motor home.
Here are eight tips that I wish I had known before embarking on my first RV road trip.
1. Don't get poop on yourself
If there's a toilet in your rig, you're going to need to dump the waste – the aforementioned black water – at some point. When you go to open the storage compartment on the side of the vehicle to remove the cap and connect the sewer hose in order to dump, remember this: Make sure the dump valves are closed!
You may not know exactly what I'm talking about now, but please trust me on this. Watch videos about dumping the holding tanks. Read the page in your motor home manual about the tanks. Make sure you close those latches! Otherwise, you might gag while your sneakers become "poop shoes" you can never wear again.
2. Remember your toolkit
It's hard to anticipate something like having your sideview mirror get so loose it no longer provides any help with lane changes. But these things happen, and you should prepare for them, instead of relying on your copilot to turn or finding a man on the road who has a wrench you can borrow to tighten said mirror.
Bring a toolkit. Bring Allen or hex wrenches. Bring duct tape. Bring scissors. Bring rubber bands and zip ties. Bring plenty of towels you can use as noise buffers (if your rig is as rickety as our Ford F-350-based ride from Cruise America was) by wrapping them around doors and drawers and windows. Be ready to fix the unanticipated.
3. Pack sufficient cookware
If your rented RV has a stove and comes with kitchen tools, you should check that it also has pans, cutting boards and silverware. And if it has knives, make sure they're sharp enough.
Ours did not. We only learned when we returned our RV that if we had replaced the missing or faulty cookware with items we bought, then Cruise America would've reimbursed us for the new items (though we did not read about this online). This may not be the case elsewhere, but it's wise to take complete inventory of your cookware regardless, and make sure you pack thermoses.
4. Use leveling blocks
Like Legos? You'll love stackable leveling blocks you can place under your vehicle's wheels to level out your parking spot. Buy a set (Home Depot, Amazon and plenty of other sellers offer blocks) before you embark on your trip. If a level (which should be in that toolbox you brought) determines that your RV is not flat, determine which wheel(s) need a lift.
When it was too dark or we were too tired to use leveling blocks, we faced consequences: Our fridge stopped running (because it relies on gravity to cool properly and works only when the vehicle is level) and I felt as if I were floating, unevenly, at sea.
That brings me to my next tip.
5. Get into your campground before dark
Map out your trip so you get to your overnight parking spot before dark. Whether you're driving into a campground, an RV park or – especially – a place in the woods where you'll be boondocking (RV-speak for spending the night somewhere free, without electric or water hookups), it's important to be able to see your surroundings.
It's challenging to see camping spot numbers and even harder to determine whether you've parked safely (and level) in the dark. Also: You don't want to wake up and be unable to recognize your surroundings. Waking up in a new place each morning is jarring enough as it is!
6. Download camping apps
If not for two particular apps, there would have been many nights we wouldn't have found a place to sleep. May I recommend Campendium and Harvest Hosts?
Campendium is like a Yelp for RVers that provides honest reviews and detailed information on middle-of-nowhere spots to boondock or pay to camp. We have this app to thank for our most memorable parking spot, on a plateau in the Badlands of South Dakota.
Harvest Hosts is a program that, after one annual fee of $79, connects you with a number of unique places to stay overnight at no cost. You may not have anticipated a stop at an Ohio vineyard or a Pennsylvania brewery when you were initially mapping out your road trip, but you likely won't regret staying – and getting drinks once you arrive.
7. Use RV toilet essentials
Sorry to bring up the bathroom again, but it's important. Without it, traveling during a pandemic would be a lot more dangerous.
And if you don't pack certain RV bathroom essentials, you'll find yourself up a certain river without a paddle.
Dissolvable toilet paper and scented toilet capsules (that you should drop in your tank, after you flush plenty of water, at the start of your excursion) are important for preventing buildup and odors. These can be found at stores including Walmart.
Even if you use those things properly, you might end up with a clog in your toilet. For that, one of the many remedies you can find online involves pouring boiling water down the toilet. That's the only one I can endorse, because it seemed to be the thing that worked for us.
8. Wake up early, watch the sunrise, take a nap
Driving your bathroom and kitchen around with you makes life super-convenient. You can eat, nap and relieve yourself whenever you'd like!
With that in mind, here's how I recommend structuring days when you visit national parks: Wake up by 5 Make coffee. Drive inside the park to a place with a gorgeous view. Enjoy the sunrise and wildlife with few other humans around. Go to sleep. Wake up already in the place where other people are waiting in liner. Go on a hike.
When you return to your camping spot, take a moment to appreciate the RV lifestyle. Bask in the nature around you before retiring to your big sleeping box. Promise yourself you'll go on another road trip soon.
6 steps to planning a successful RV road trip
When I bought my first RV more than a decade ago, it wasn't because I loved camping. Rather, I was a dedicated roadtripper who spent all my vacation time driving along the Blue Ridge Parkway in the east, the Pacific Coast Highway in the west, or any scenic byway in between. As I entered my 30s—with a couple of babies in tow—I still desperately wanted to be a road warrior. However, I also wanted to bring some of the creature comforts of home along on the adventure. Enter the RV road trip.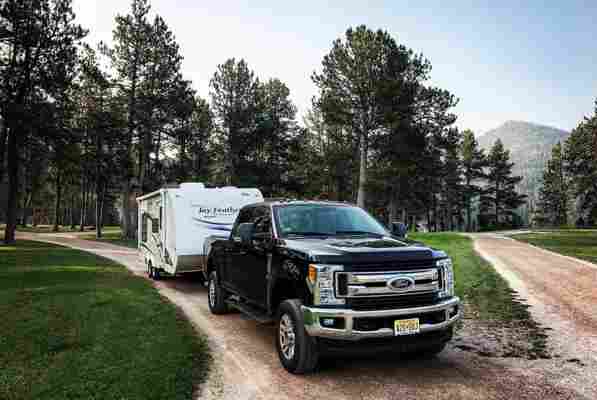 Looking for a way to simplify RVing? Check out Togo RV, your all-in-one RV companion Get it now
Why road trip in an RV rather than a car?
Eleven years after that first RV purchase I can say the big bet paid off. My family has spent hundreds of days roadtripping around the country exploring national parks, historical landmarks, kitschy roadside attractions, urban destinations, and beach resorts. Here are the reasons why I choose to plan RV road trips more than any other type of travel.
You can travel more and spend less.
It is easier for us to control costs when we travel in an RV than when we take other types of road trips. Spending less on a campground does not mean sacrificing natural beauty or comfort. State and national park campgrounds offer some of the most scenic places to park your rig with a price tag ranging from 20 to 40 dollars per night. Feeling more adventurous? Find Bureau of Land Management (BLM) land where you can boondock for free. Another option is purchasing a Harvest Hosts membership, which will allow you to camp for free at wineries, breweries, and farms around the country.
You can prepare your own food in an RV.
An RV kitchen allows travelers to eat healthier and spend less money while on the road. This can be particularly helpful for anyone with special dietary restrictions and food allergies, or for picky eaters. We love picking up regional specialties at farmers' markets and then preparing dinner at the campground.
You get your own (clean) bedroom and bathroom.
No matter where we are in the country, we love ending the day by falling asleep on our own custom memory foam RV mattress. Our kids have their favorite blankets and stuffed animals. The bathroom is always well-stocked with our favorite toiletries, and the medicine cabinet has all the necessary first aid supplies we might need in a pinch. Even though these things have always been appreciated, we value them even more while dealing with COVID-19 concerns. We are able to stock up on cleaning supplies and control the cleanliness of our environment more easily when traveling with an RV.
Ending a day of travel at Assateague State Park in Maryland. | Photo: Jeremy Puglisi A quick overnight stop at the Jellystone Park in Sioux Falls, South Dakota. | Photo: Jeremy Puglisi
Plan on renting an RV?
The RV rental industry has been growing rapidly over the last decade, but recent events have caused a massive spike in interest. If you plan on renting an RV for your next road trip, don't wait to make that reservation. I highly recommend renting a motorhome that is 30 feet or less, which will enable you to fit into almost any RV campsite out there—public or private.
Related Renting an RV for the First Time
A Class C RV rental will feel similar to driving a U-Haul truck and is fairly easy to maneuver on highways and in parking lots. Smaller Class Bs—think #vanlife—are even easier to drive but offer very little storage or sleeping space. Class As are more like buses and may be intimidating to first-time RVers. You will also be relegated to big-rig-friendly campgrounds and oversize parking spots.
Shopping for your first RV?
If you are currently in the market for your first RV, make sure you purchase a rig that will fit your traveling style. There is no shortage of massive RVs out there with residential refrigerators, massaging recliners, and king-sized master beds. However, these types of RVs are not well suited for roadtrippers who aim to easily move from place to place and stay light on their feet.
Consider set up and break down times. Be aware that gas stops and quick roadside breaks will be more challenging. Also figure out what kind of campground experience you want. Rule of thumb is to purchase an RV under 30 feet long in order to fit into most state and national park campgrounds.
If you would like to boondock or park overnight in free locations, make sure you look for large fresh water, gray water, and black water tanks as you shop. You may also want to look into solar panels or an onboard generator to power your off-grid adventures.
Already own an RV?
If you recently purchased your RV and are itching to hit the road, take a breath and get comfortable with your new home on wheels first. Head to an empty parking lot and practice backing up, parking, and turning. Create personalized checklists for campground departure and arrival. Measure and record the length and height of your rig (including air conditioner). Load your RV with all your gear and head to your local CAT scales to make sure it's not overweight.
West Glacier KOA provides the perfect base camp for exploring Glacier National Park. | Photo: Jeremy Puglisi
6 steps to planning a successful RV road trip
Despite all the compelling reasons to road trip in an RV, this mode of transportation does not come without its own unique set of challenges and concerns. No matter how experienced of a roadtripper you are, you'll need to make some adjustments when planning an RV road trip.
1. Choose the right RV for the road trip you want to plan.
Don't expect to take the scenic route and play your campground stops by ear in a 40-foot Class A motorhome. On the other hand, you may not be able to stock up on groceries and prepare your own gourmet meals in a 16-foot Class B van. Matching up your rig with your desired adventure is the first step in planning a successful RV road trip.
2. Make a plan that matches your budget.
The three most expensive line items for an RV road trip are gas, campground fees, and food. All three of these can vary dramatically depending on the type of road trip you plan. Knowing your RV or tow vehicle MPG will help you plan a route that doesn't break the bank. Remember, you don't have to drive across the country to have an amazing adventure. Having a campground budget will help you feel free to splurge on an RV resort at one stop and then balance that out with some state park camping or boondocking. Some folks save money by overnighting in Walmart, Cracker Barrel, or Cabela's parking lots instead of pricey private campgrounds by the side of the road. Just call ahead to check on local ordinances.
The current state of available campsites is a hard pill to swallow for new RVers. Many people dream of hitting the road and letting the wind blow them where it may. Unfortunately, the best state and national park campsites are often booked months in advance, so making reservations is typically recommended. Carefully read online reviews to ensure the campground is a good fit. Make sure the campground has the amenities that you need, whether that's a pool and hot tub or just sparkling clean bathhouses. Also note any cancellation policies and record them in your smartphone calendar along with the reservation information. This way you are prepared if plans do change while you're on the road.
Enjoying lunch with a view somewhere along Interstate 90. | Photo: Jeremy Puglisi
4. Plan an RV-friendly route.
Many experienced roadtrippers love exploring the backroads and scenic byways when traveling from point A to point B. You will have to approach route planning differently when taking an RV road trip. Look for any low clearances and propane restrictions for bridges and tunnels. Think about gas stops that won't land you in a parking lot pickle. Be aware of steep grades or switchbacks that may be tricky to navigate in an RV.
5. Research RV parking in advance.
Seasoned roadtrippers love to find unexpected treasures and make unplanned stops. This becomes a bit trickier when traveling by RV. I usually call ahead to points of interest along our route and specifically ask for details about RV parking. From the Corn Palace in South Dakota to the Bay of Fundy in Nova Scotia, we've been able to easily navigate busy tourist attractions armed with advanced parking intel. What about those fun, unplanned stops that pop up along the way? Check the satellite map view on your smartphone to see if you will be able to navigate in and out of the location before committing.
6. Adjust your estimated time of arrival.
One of the most common mistakes new RV roadtrippers make is expecting to move at the same pace as when traveling by car. That's not going to happen, so it's important to have reasonable expectations when planning your itinerary. An easy rule of thumb is to plan an average route speed of 50 miles per hour. This accounts for generally slower speeds, but also longer and perhaps more frequent gas stops. Driving an RV takes a lot more focus than a car, and first-time RVers are often surprised that they are tired after a shorter time behind the wheel. For this reason, some RVers follow the 3/300 rule: Drive no more than 300 miles in a single day and arrive at your destination no later than 3
After hundreds of days spent roadtripping in an RV over the last decade, I clearly enjoy hitting the open road with my home on wheels. I'm willing to trade a bit of flexibility for a whole lot of comfort. Find the right rig, plan ahead, and adjust your expectations a bit. Then get ready to have an amazing road trip adventure.