Celestyal Cruises, which resumed Greek Isles sailings aboard Celestyal Crystal in mid-June, is counting on travel advisors to help boost its business from the U.S. market.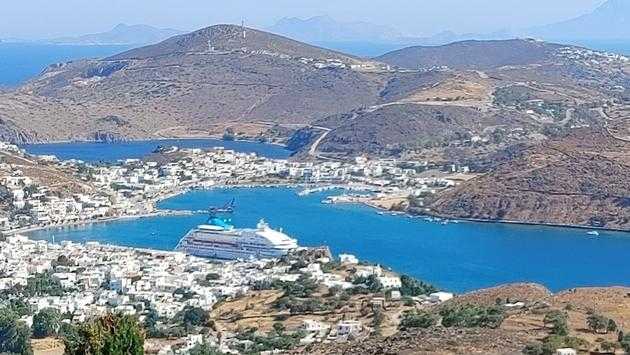 For Celestyal, seeing is believing.
The company is offering a slate of fam trips for travel advisors, which began with a group of Travel Quest Network agents who sailed on Celestyal Crystal's July 3 seven-night itinerary roundtrip from Athens, followed by a group of KHM Travel Group advisors on the July 10 cruise.
"We knew it was crucial to get agents back on the ship so that they could spread the good news about the fact that it's okay to travel and cruise again in Greece," said Gordon Dirker, Celestyal's vice president of business development.
The line has also been reaching out to travel advisors through its three business development managers in the east-central and west regions of the U.S., he said.
Celestyal, which offers a base commission of 12 percent and also pays 12 percent on shore excursions, is witnessing a slow but steady increase in business.
"This year, we're still rebuilding," Dirker said. "There's a lot of last-minute activity to drive business now that Greece has been open since May."
He noted that the company expects business to increase substantially once its tour partners – including such companies as Globus, Insight, Trafalgar, Gate 1 and Avanti, which package shorter cruise components with tour programs – resume operations later this year.
The 1,200-passenger Celestyal Crystal is currently operating on seven-night "Idyllic Aegean" itineraries, with calls at Patmos, Rhodes, Santorini, Lavrion, Mykonos, Milos and Crete.
The 1,664-passenger Celestyal Olympia resumed service on June 28 with a new "Legendary Archipelago" itinerary calling at Thessaloniki; Mykonos; Santorini; Agios Nikolaos and Rhodes; and Limassol, Cyprus.
In March, the line will introduce Celestyal Experience , formerly Costa Cruises' Costa neoRomantica, on itineraries currently offered aboard Celestyal Crystal.
Dirker noted that Celestyal cruises are ideally suited for travelers who are looking for destination-intensive itineraries.
When qualifying their clients, he recommended travel advisors "find out whether they are travelers or cruisers," noting that the biggest selling point for Celestyal Cruises is its immersive, destination-intensive itineraries.
"We are a cruise line, but the destination is the hero," he said.