Marriott will soon be expanding its lifestyle-led AC Hotels brand into the Dominican Republic with the opening of its new AC Punta Cana property in Spring 2021, further growing the brand's portfolio in Latin America.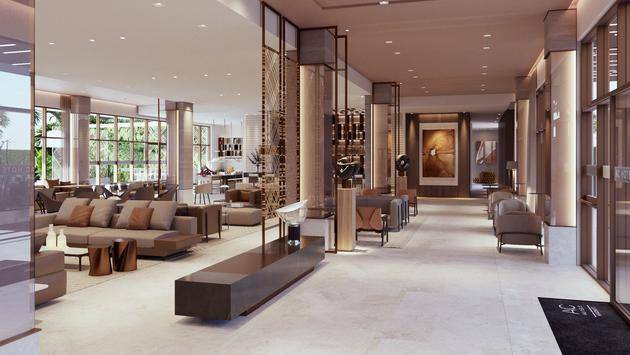 True to the brand's ethos, this first AC Hotel to arrive on the island will be driven by purposeful design and targeted toward essentialists who appreciate timeless, uncluttered spaces. Like the rest of the AC Hotels portfolio, AC Punta Cana will offer a classically modern aesthetic, inspired by the unique elements of its geographic and cultural setting.
The new 129-room property will, however, boast some larger guest-use areas than is typical of the brand's other hotels. Its swimming pool, gardens, fitness center and rest areas will be extra spacious, and the property will also incorporate such multifunctional spaces as an AC Kitchen, AC Store and AC Lounge, as well as corporate event space—an amenity that's currently locally unavailable in its segment.
The modern hotel structure will embrace the brand's signature architectural inclinations—clean lines, balanced use of materials and tastefully-proportioned spaces. Innovative Spanish firm Requena y Plaza has been tasked with devising the hotel's interiors and is drawing upon the Dominican Republic's distinctive character and natural influences to create a thoughtful, refined and restful ambience.
Drawing upon the area's cultural roots and local artforms, Requena y Plaza plans to employ a warm color palette, accented with local-craftwork touches and specially-commissioned pieces to produce an indoor atmosphere that's distinguished by its elegantly contrasting, yet complementary, features.
Catering to a crowd that's increasingly blending business with leisure, AC Punta Cana aims to satisfy travelers who wish to make the most of their time and focus while also enjoying the destination. Once it's launched, AC Punta Cana will surely become a social hotspot, situated in the heart of one of the Caribbean's fastest-growing tourism destinations.
Developed by investment firm EGI Business Group, in collaboration with Montana Group, the property will be managed by Highgate. When it opens in 2021, AC Punta Cana will become the eleventh AC by Marriott hotel in the Caribbean, but EGI's first investment in the region.
For more information, visit ac-hotels.com .